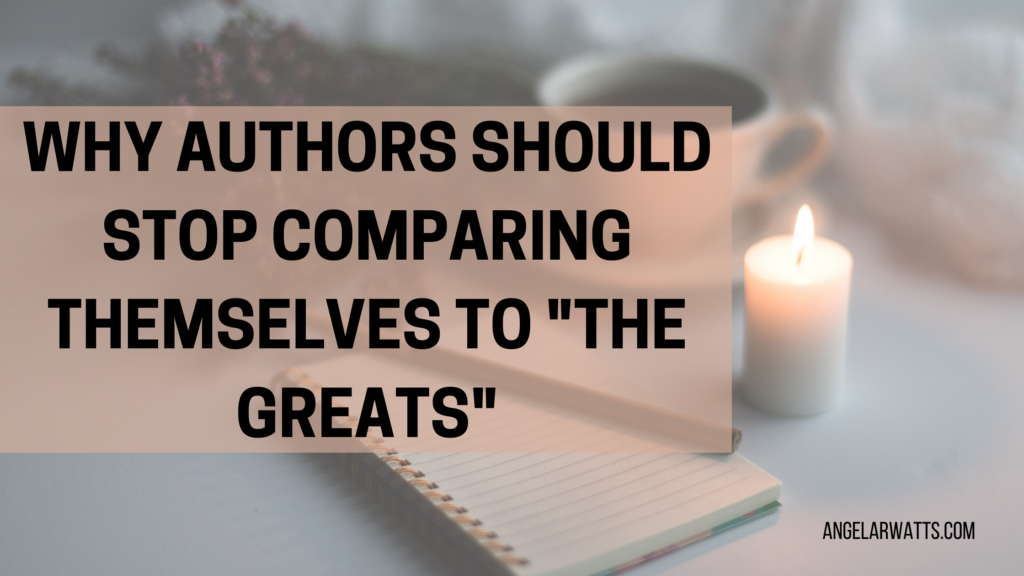 The fantasy community of readers and writers is a huge group. My journey of writing GOLGOTHA had struggles, and at first, comparison to fellow authors was one of them. But I put on blinders and didn't take them off till I had finished writing. And then… a recurring theme surrounded me. Fantasy authors, often new ones, comparing themselves to the "greats" such as Tolkien, Lewis, etc, in fear that they'll never be "that good". This comparison and struggle is a frequent discussion in fantasy groups I'm in. It breaks my heart.
Comparison can be a sticky beast. You have a fleeting thought and it engulfs you, dragging you down a mountainside into a mud pile of guilt, jealousy, hurt, resentment, you name it. Everyone has struggled with comparison at one point. Usually, it is an easy fix. You revaluate your goals, passion, ask yourself why you do your thing, and keep your chin up. You fight on. But what if you're comparing yourself to the author of Lord of the Rings? What if you're trying to create a story world that resembles Narnia so readers will write you into the history books?
We have to stop comparing ourselves to authors, period.
If you're a Christian author, our greatest inspiration should be God. I get asked often, "what inspired *thing*?" and the answer is almost always "God"… And comparing ourselves to a "great author" is more hindering than you may think. You would be surprised how more creative you got if you took off that cage that seems perfectly fine, and challenged yourself to think, "I am going to make a world as complex as God can help me make".
Tolkien and Lewis were human. We're human. They had cool worlds. We have cool worlds. Some people obsess over their books, some people don't. Basically, we have to stop idolizing authors, and let God take the reins to our creative life. "Little children, keep yourselves from idols. Amen." – 1 John 5:21
If we have an unhealthy obsession with comparing ourselves to any other, Tolkien or not, we're not doing our stories a favor. We're suffocating them. God never called us to be the next Tolkien. He called us to be ourselves, and to use the unique voice He gave us for His glory.
I mentioned I struggled with comparison when I started GOLGOTHA. It didn't last long because I quickly turned to God, prayed, and asked why I was writing. I didn't want to be "as good" as any other author. I wanted to write the story God gave me. I wanted to ask God how to do each thing. There is an episode of Frasier that shows Frasier learning to ride a bike (yes, he's a grown man). Whenever he notices something, though, like a tree or trash can, he steers his bike toward the object and crashes. Every time. That's what I see authors doing when they set their sites on the greats. They're only hindering their own voice that God has great things for.
So… own your voice. Be bold. Write your story. That will be enough. Always.
GOLGOTHA

Four unlikely companions must band together to escape the Realm of Bones and save their kingdom from a reign of darkness.
Prince Moray will lead his empire to glory, even if it means dabbling with forbidden black magic. But when their parents are murdered, Moray and his brother, Finnigan, are cast into Golgotha—a realm where hope is dead. Finnigan fiercely believes his god, Elohai, will rescue them, but Moray will never trust again.
Princess Ama, promised in marriage to Moray to ensure her clan's safety from rival tribes, arrives just before a coup and becomes trapped in Golgotha with the smart-mouthed mercenary, Gunnar. Surrounded by strange monsters and ravenous demons, Ama must fight to hold on to her faith—or lose everything.
Despite Ama's Gift of prophetic dreams, Finnigan's Gift of energy, Moray's magic, and Gunnar's blades, nothing can rescue them from themselves. If they fail to escape, darkness will devour the entire kingdom.
Shadow and Bone meets Mark of the Raven in this epic for fans of faith-based young adult fantasy.
SCHEDULE
April 8th
Nathan Renfroe | Spotlight
Joshua Reid | Review
Merie Shen | Review
April 9th
Laura A. Grace | Author Interview
Emily Seaver | Guest Post
April 10th – Release Day
Stephen Howard | Author Interview
Jaye L. Knight | Spotlight
Michaela Bush | Author Interview
April 11th
Ian Wilson | Author Interview
Nicole Dust | Spotlight
Madisyn Zeller | Spotlight
April 12th
Hannah Gaudette | Guest Post
Lacie Ryder | Spotlight
Yakira Goldsberry | Spotlight
~~~
Thanks so much for reading! Tomorrow we wrap up the blog tour and I'm so grateful for everyone who has joined us. Thank you! And if this post ministered to you, I'd love it if you shared it around.
Blessings,
Angela