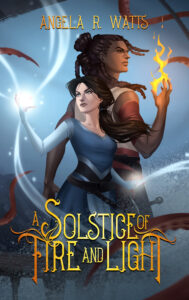 A SOLSTICE OF FIRE AND LIGHT
Genre: young adult, fantasy romance
Dionne, a Gifted nomad princess, hunts the warlocks that kidnapped her brother.
Nnamdi, a popular caravan fighter, wishes to be freed from his sins.
After they break out of prison together and spare each other in a death match, there's no turning back… So they board a pirate ship and hunt the Order.
When Dionne learns that the wizards that took her brother have also taken child slaves and hides them all away in her kingdom, she creates a plan with the pirates to infiltrate the Order… But when Dionne reaches the kingdom, she will be sacrificed to the gods on winter solstice.
Swept in a world of deadly magic, Nnamdi swears his protection to Dionne…But then he learns she is a princess and that her fate is sealed at the hands of a jealous wizard. Nnamdi must break his chains and unleash his Gift like never before… Or lose the only woman he's ever loved.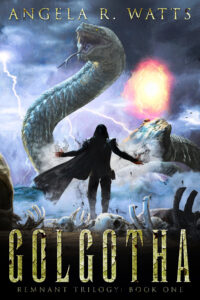 GOLGOTHA, Remnant Trilogy #1
Genre: young adult, dark fantasy
The king of darkness will rule both realms in the future–or so the legends say. Prince Moray, heir to the Buacach Throne, practices forbidden black magic. Soon, he will enter forsaken Golgotha and reign over both realms as powerful king. But a coup destroys his plans and he's cast into Golgotha to die.
Fighting alongside his brother, his betrothed, and a smart mouth mercenary, Moray holds onto hope that he can rule both realms. But when he disobeys Master's orders to kill his betrothed, Moray must make a choice: save his family or save himself? And can he defeat Master's plans… and kill a warlock who begins killing his friends one by one?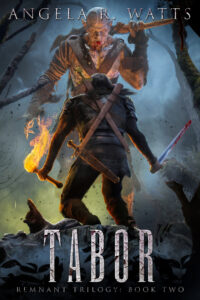 TABOR, Remnant Trilogy #2
Genre: young adult, dark fantasy
King Finnigan's kingdom is crumbling—traitors plot in his midst, a witch has fled execution, and enemies attack allied lands. When Rifts form between Golgotha and Mazzabah, the ragtag remnants must close them before the ancient warlock, Shafiq, takes control of the realms.

With darkness engulfing both realms, the group parts ways to seek answers about the histories and what can be done against Shafiq. But what they find changes everything. If they can't fight the darkness, Mazzabah will be lost, and so will every innocent life left behind. But to survive the ancient war, they need help. And with more help comes more traitors.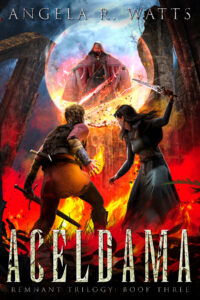 ACELDAMA, Remnant Trilogy #3
Genre: young adult, dark fantasy
The ancient war comes to an end… or does it?

King Finnigan must defeat the ancient warlock to save his kingdom… but every triumph requires sacrifice. As the kingdom faces monsters, traitors, and dark wizards, the remnant must work together to stop the darkness from engulfing the realm.

But not everyone will survive to see the journey's end.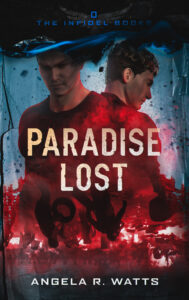 Paradise Lost, The Infidel Books #0
Genre: new adult, post apocalyptic 
The end of an era begins—but three young men refuse to fall victim to the Second Civil War.
Gideon Hochberg has lost everything—except two thieving friends and his dog. When the nation's strongest gang lord shows interest in their street skills and mercenary-like abilities, they take the chance they've fought for and join Johnston's ranks.
But the USA is under martial law after war breaks out over constitutional rights, and the three men must decide why they're fighting, and who they can trust. As they face death and struggle to learn the ropes of the new world they have to conquer, one thing remains steadfast: each other.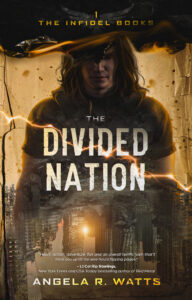 The Divided Nation, The Infidel Books #1
Genre: new adult, post apocalyptic 
Three years after the USA 2024 presidential election and the declaration of martial law, the Second Civil War is raging. West Johnston, heir to the most powerful gang lord in the country, refuses to continue the family legacy and rise to dictatorship. But to kill his father and end the war, West must play the role of the prodigal son.

When George wants West and his crew to kidnap the mayor's daughter to hold hostage against the Union's general, West takes the job… With the hidden intention of getting the girl home alive. If West fails, his father will learn of his treachery and an innocent girl will die.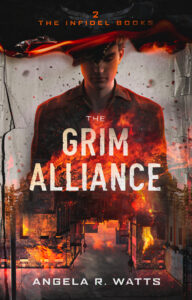 The Grim Alliance, The Infidel Books #2
Genre: new adult, post apocalyptic 
The Second Civil War storms through the crippled US as winter falls. West Johnston has earned the role of leader in his mafia father's network, but the stakes of the war grow. West is caught in a web of questions with a nation counting on his guidance. Can West stop his father if he can't even end the war that's killing millions?
Meanwhile, West's crew finds a way to prepare a town for the war's final phase–restoration. The mayor's daughter, Rene', must convince the townsfolk to trust gangsters if they want to survive, but did she make the right choice in doing so, or will the alliance get the rebels killed?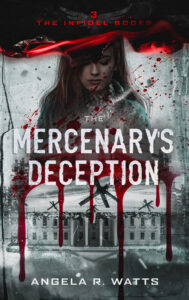 The Mercenary's Deception, The Infidel Books #3
Genre: new adult, post apocalyptic
The fate of the United States rests on West Johnston's shoulders. West and Brian, the AWOL general of the Union, work together to take control of the Second Civil War that ripped the nation apart. But their betrayal is short lived when the Union gains control and West must kill his mafia lord father.
During a rescue operation, Rene' Fisher and Gideon Hochberg are kidnapped by a previous member of Springtown. If Rene' and Gideon can hold on, they can give vital information about the war that could end it all. But if their teammates don't reach them in time, the war could be over.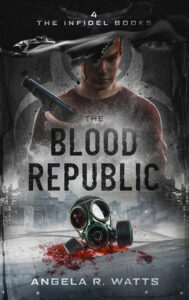 The Blood Republic, The Infidel Books #4
Genre: new adult, post apocalyptic 
The Second Civil War ends and West Johnston is heir to the new nation—but the war in the shadows continues as they rebuild America. With team members missing, West must help save his family. But the team discovers a biological weapon, and if they fail to maintain power, it will fall into the enemy's hands.

Meanwhile, the crew finds intelligence that will change the course of the nation, and must team up with unlikely friends to escape government labs. If Gideon, Spencer, and Rene' can survive, then new hopes await—but not everyone will make it out alive.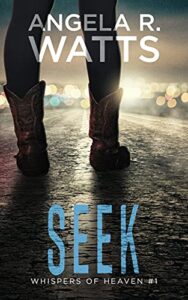 SEEK, Whispers of Heaven #1
Genre: Christian suspense, romance
Angel Cutler is being hunted by local ganglord Viktor Marino and doesn't understand why. Angel must flee town with the help of two total strangers–but a demon from her past catches up with her. Faced with car chases, gun fights, and homesickness, Angel must choose between risking it all to protect her family or surrendering her freedom to a mafia lord.
Elijah Davis has made Marino bleed once and he'll do it again. His attempt at rescuing Angel takes a turn for the worst when Elijah's little brother is tossed into the midst of the danger. But Elijah can't save everyone alone and help comes from unlikely places… if he can accept it.
A fast-paced Christian fiction thriller about healing from abusive relationships and seeking hope, no matter the cost.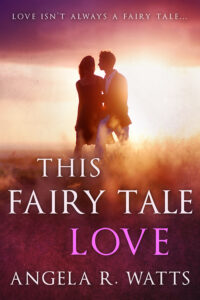 This Fairy Tale Love
Genre: Christian romance
Love isn't always a fairy tale…

Lucy Levitt is too busy with her family's ranch and her job to partake in romance. She believes God will give her the right man when the time is right and she won't risk any mistakes. But when the new bachelor in town asks her to the mayor's dinner party, can Lucy take a chance on what appears to be a match made in heaven?

Edward Prosner is determined to restore his father's honor among his peers, but he'll have to play dirty, too. If he can prove the town's mayor cheated in a race against Ed's father, then he'll be happy. But he can't even find a date for the mayor's party–until he meets Lucy, a woman who still believes in fairy tales. If Ed can't fix his mistakes, then he'll miss the only happily ever after he's ever wanted.