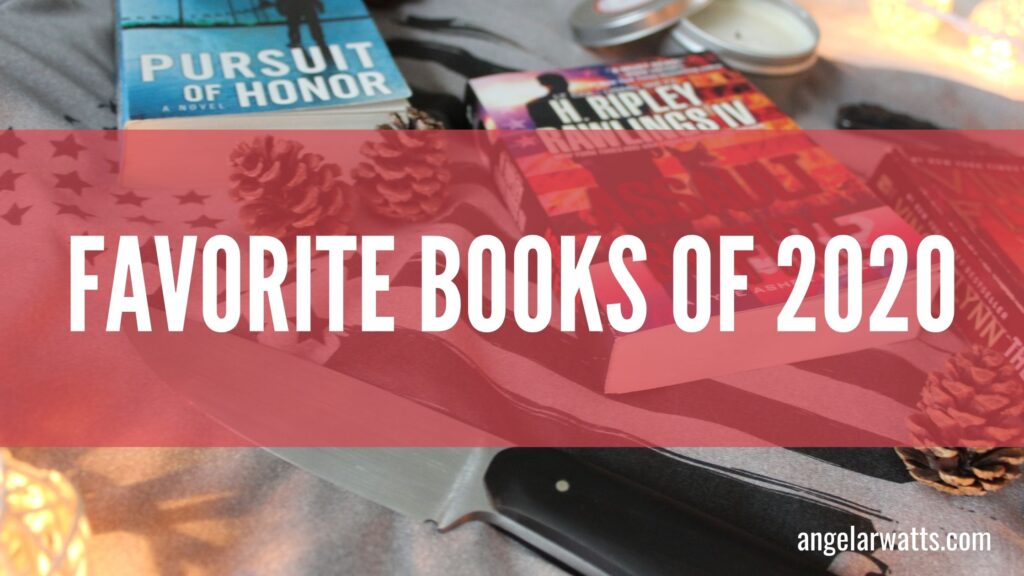 In 2020, I challenged myself to read less. Yep, that's right. Read less. For years, I was reading a ton of books I really didn't want to read. It was easy for me to cram 120+ books into one year, but I wasn't actually enjoying 70% of those books.
I really wanted a change, so I challenged myself to read books I truly wanted to read. No guilt reads. No pressure reads. No books that seemed nice but I wasn't in the mood for. 2020 was a year of mood reading and letting myself enjoy books! It was SO WORTH IT. I also wrote about three novels, published a novel, pitched/signed a novel, published a short story, and worked hard at my editing business, so of course, this took time and equaled less reading time. All in all, I read about 60 books!
TOP NOVELS
THE LAST MAN by Vince Flynn
5/5 stars
This is probably my top read of the year. Fast-paced, full of twists, and amazing characters, I adored it. I am about to reread it even though I have like 60+ books I need to read first.
Favorite parts: RAPP/HURLEY ACTION. A wicked great baddie. High stakes and intense action. Hope through hell.
UNTITLED by Jesseca Wheaton
5/5 stars
UNTITLED is one of the best books I've ever read… heart-wrenching, beautiful, and packed full of bittersweet truths.
Favorite parts: James is amazing. Beautiful prose. A bittersweet ending. A reminder about love that I always need.
EXTREME MEASURES by Vince Flynn
5/5 stars
This novel took my heart and cut it into a million pieces, I loved it. I needed it. I needed to see hope and the reminder that things will be okay. I needed to be reminded to suck it up and keep going.
Favorite parts: Stan returns! Amazing humor with the Crew. Really important themes.
BAD COMPANY by Joshua C. Chadd
5/5 stars
A hardcore zombie novel with themes of brotherhood, courage, and trusting God despite it all, I love this book. I finished the series in 2020 and really want more, ha!
Favorite parts: BROMANCE. Epic team work. Sweet female characters who still kick ass. Snark. Intense action.
PURSUIT OF HONOR by Vince Flynn
5/5 stars
A thrilling yet disturbing novel that had me on the edge of my seat! I enjoyed seeing the cast in action, the cool plot stakes, and of course, the themes and morals.
Favorite parts: Rapp calling out the Senate for hating his job but they agreed with abortion–can I get a mic drop? Snarky characters. Brotherhood loyalty. HAKIM AND AHMED. More Stan and our shrink Lewis.
HONORABLE MENTIONS
ASSAULT BY FIRE by Rip Rawlings
4/5 stars
What a ride! Realistic, intriguing, and full of action, I cannot wait for book 2!
Favorite parts: the cast ROCKED. The action. Snark! Russian baddies. Post-apoc vibes.
TOTAL POWER by Kyle Mills
4/5
Review to come, I'm rereading before I give a final review and I am way behind!
I was honored to be accepted onto the Mitch Rapp Ambassador team (read: a DREAM COME TRUE) and Total Power did not disappoint! I loved it! Amazing characters, a chilling plot, and such a fun ride!
Favorite parts: the Wicker scene on the plane, you know the one. Badass Rapp. THE THEMES of courage and fighting for what is right. Really cool writing style.
~~~
There we have it, my favorite books I read in 2020! In 2021, I will continue to read books I want to read, so if you're suffering from reading what the crowd or peers enjoy… you can stop and read what you like!
Tell me YOUR top 3 books from 2020 below!
God bless,
Angela