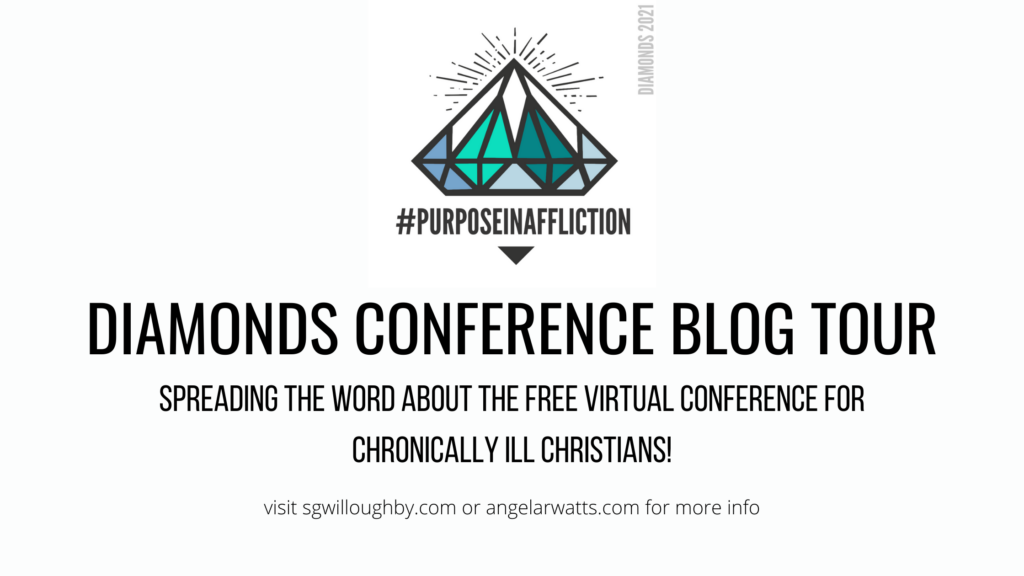 Diamonds Conference is a free virtual conference for chronically ill Christians, but anyone is welcome to register and join us! The conference begins tomorrow. January 22nd-24th will be full of live sessions, praise sessions, panels, and more! The Diamonds 2021 Blog Tour begins TODAY, and I'm recapping with all the info you need to join us!
DIAMONDS 2021 SPEAKERS
Bella Morganthal
Tessa Emily Hall
Becca Doss
Hailey Hudson
Esther Smith
Kara Swanson
S. G. Willoughby
Bethany Rose
Susie Larson
Will Lundy
Rachel Lundy
Angela R. Watts
Chris Simning
Peter Frey
Mary Frey
Nicole O'meara
Tasha Marie Brown
Many chronically ill warriors face burdensome medical bills, and our goal is to uplift instead of adding just one more problem, so Diamonds 2021 is 100% free while it's live! After that, you can purchase the all-access pass to gain lifetime access to the conference content along with some exclusive bonuses.
If it sounds awesome, we're just getting started! You can also purchase Diamonds Conference merch! Socks, mugs, sweatshirts, we have a great line up of products! Start shopping Diamonds merch HERE!
If you're feeling alone or need prayer, Diamonds also has a community group on Slack. You're welcome to join us! Join here!
Chronic illness is messy, and so often we let it become who we are. But illness cannot steal either your purpose or identity. Diamonds 2021 is an online conference for chronically ill Christians. The goal of the conference is to encourage all those facing invisible battles.
You aren't alone — far from it.
This year, twenty authors, bloggers, and ministry leaders who battle chronic illnesses themselves are joining together to offer hope and insight as you navigate relationships in the midst of long-term illness. Hear from people like Susie Larson, Chris Simning, Kara Swanson, Mary Frey, and many others about topics like:
– Navigating Grief and Chronic Illness
– Marriage with a Chronic Illness
– How to Create Your Unique Support Community
– How to Serve God When You're Chronically Ill
– And much more!
This study guide will help you make the most out of the Diamonds 2021 conference and remember what you learned far past the end of the conference.
Basically, the study guide is a recap of every speaker's sessions. You can snag a copy on Amazon now! Click the link above!
DIAMONDS 2021 BLOG TOUR SCHEDULE
January 21st
Hailey | Spotlight
Angela | Spotlight
Sawyer Marie | Interview
Clarissa | Guest Post
January 22nd
Adrianna | Guest Post
Julia | Spotlight
Breanne | Spotlight
Anna | Spotlight
Tara | Guest Post
January 23rd
Sarah | Spotlight
The Valley | Spotlight
January 24th
Abigail | Spotlight
Angela | Wrap Up
The blog tour schedule above is a gist of what to expect! Feel free to join this tour for epic content. I'm super excited to share the guest posts I did for some of these amazing bloggers! Stay tuned!
If you'd like to help us, there is still time to spread the word about this conference! Share this post online or share the registration link with some info. The more people this conference can reach, the better. If you have a friend who might benefit from this, send this link over!
God bless you!
Angela R. Watts
Diamonds 2021 Speaker, Blog Tour Host, Street Team Leader