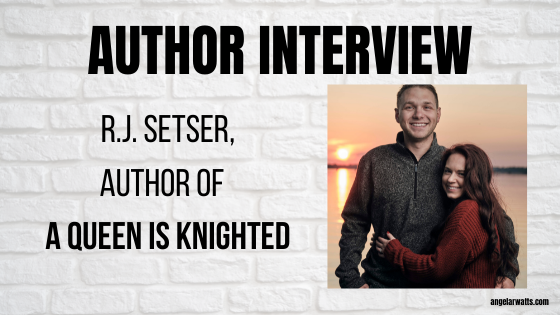 As part of the A QUEEN IS KNIGHTED blog tour, I am interviewing R.J. Setser! Eeep! Let's jump right into the epicness!
A QUEEN IS KNIGHTED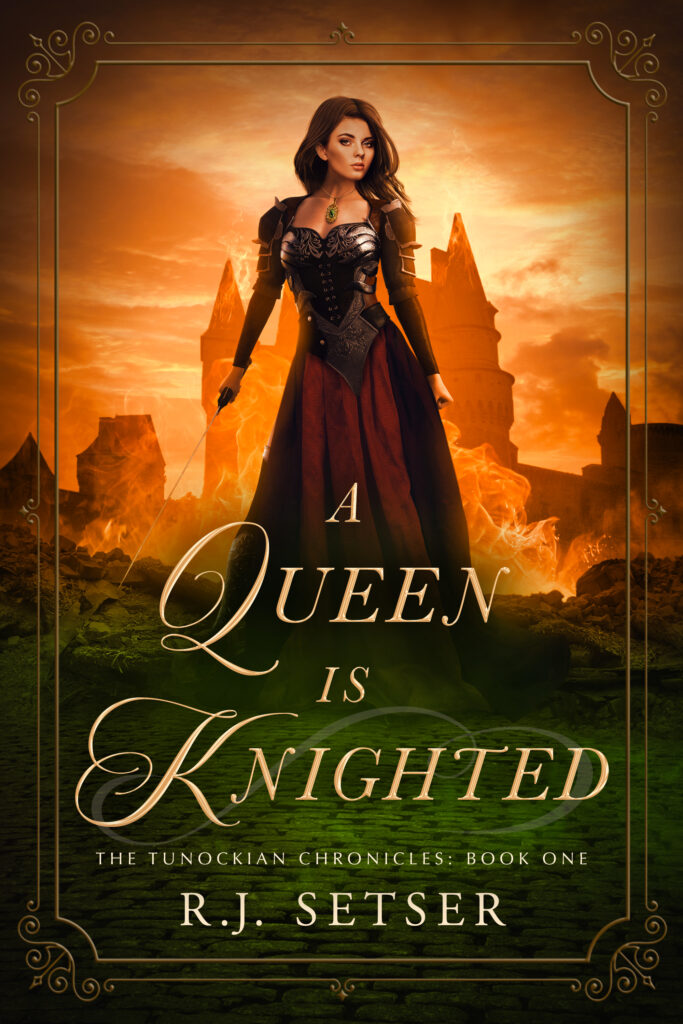 Three Kingdoms. Two wars. And one queen who is desperate to save them all.
The kingdoms of Tunock, Taus, and Wilmington have been at peace for more than five hundred years. On their secluded peninsula, life is perfect for royalty and commoners alike. Fear of the pirates in the waters keep them from exploring further than the beaches, and tales of strange visions and missing persons keep them from going to the mountains Beyond. They are happy with their way of living and content in knowing that as long as they don't cross the borders; they are safe. But everything changes when the castle of Tunock burns to the ground and the royal family disappears with no one to blame.
Princess Lauraine of Tunock never dreamed that she would spend her seventeenth birthday escaping a burning castle, but that's precisely how she spent it. Left to the mercy of a knight whom she's never met before, Princess Lauraine goes into hiding while trying to solve the political mystery of who attacked her home—and why. She befriends an old knight—whom her father declared insane—and though she trusts her father's declaration as much as she trusts him, something about the old man seems sincere. Could her father have been wrong about him? And when strange things happen throughout the kingdoms—things that should only belong in the fairy tale books—Lauraine finds herself at an impasse: should she rise to the position of Queen and restore order to her kingdom; or risk losing her kingdom entirely in search of the truth?
As the events happening in the Three Kingdoms continue to unwind, Princess Lauraine makes a choice. A choice that promises little reward and far more humiliation if she's wrong. With a small band of friends who she deems trustworthy, Lauraine gives her everything to become the person who will save her kingdom—even if it means losing herself.
OUT NOW – 6/8/21
ABOUT R.J. SETSER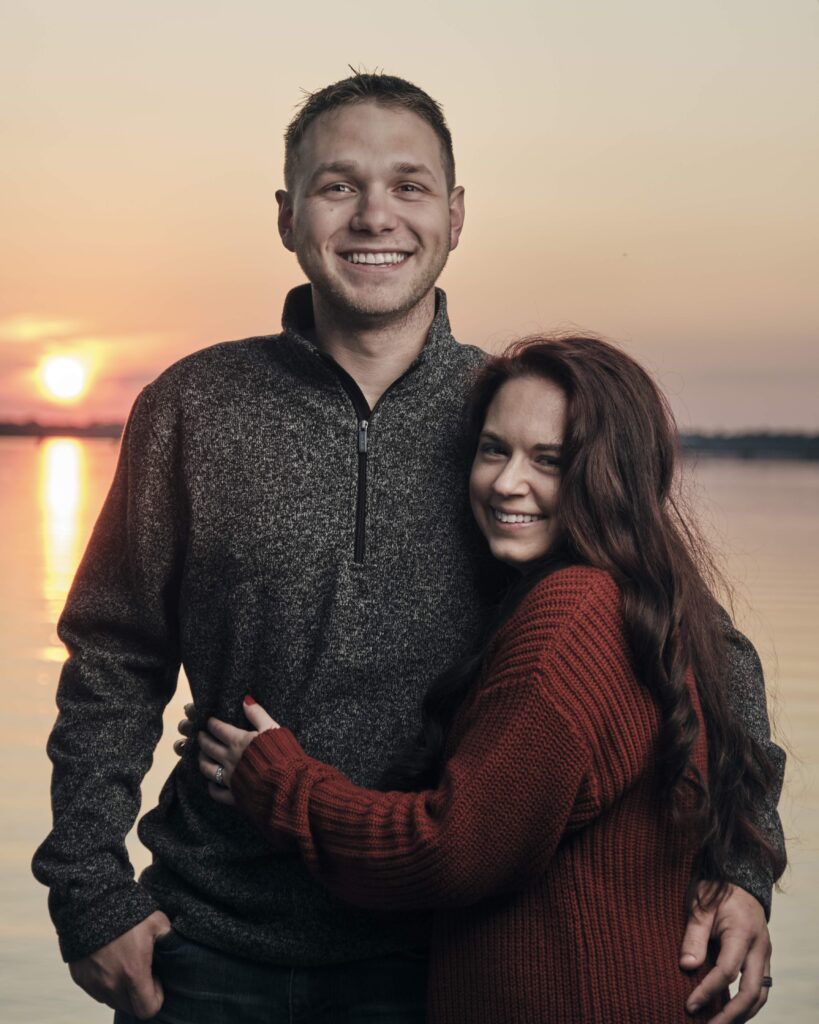 R.J. Setser is a pseudonym for wife and husband duo, Rayleigh and Joshua Setser. High-school sweethearts who found their happily-ever-after in 2019, Rayleigh and Joshua have been writing together since 2015 and finished their debut novel, A Queen is Knighted in 2020. They live in a small town in Texas with their 2 dogs, Watson and Rosie, and 1 cat, Yuna. They spend most of their time juggling Joshua's military life and Rayleigh's civilian life. In their free time, they can be found with both of their families at the lake, reading or writing, and quite possibly playing sword-fighting video games "for research". Find them on Instagram @r_j_setser or online at rjsetser.com.
TOUR SCHEDULE
JUNE 8 (RELEASE)
Angela Watts | Introduction Post
M.H. Elrich | Book Spotlight
JUNE 9
Dawn Dagger | Guest Post
Michaela Bush | Book Review
Erin Phillips | Author Interview

JUNE 10
Erudessa Gentian | Guest Post
Laura A. Grace | Guest Post
Angela R. Watts | Author Interview
JUNE 11
Joshua Reid | Book Spotlight
Stephanie Sevilla | Book Review

JUNE 12
Maryam Zeba | Book Spotlight
Angela Watts | Wrap Up Post
GIVEAWAY
The giveaway begins June 8th and ends June 15th! Winner will receive an autographed copy of A QUEEN IS KNIGHTED.
AUTHOR INTERVIEW
When did you begin writing?

We've both been storytellers since we were old enough to read. When we moved recently, we found old notebooks that are proof that we've both been writing down those stories since very young ages. But we started writing together at 14 years old. Joshua and I were both awkward introverts in high school who couldn't carry on a conversation, but somehow, we formed a friendship over a common love for stories and accidently started a story over texting one day. That story grew into a very complex story that is now sitting in a Word Doc with nearly 45k words–written entirely over text messages!
What do you love most about writing fantasy?

Rayleigh: I love the freedom that fantasy gives my imagination. Sure, there is some aspect of research that goes into writing fantasy, but there are very few rules applied to fantasy books which allows me to exercise my naturally active imagination.

Joshua: I've always loved fantasy. It's always been something that I really enjoyed and I'm a big fan of dragons, so anything that has those types of creatures and magic in it has always been close to my heart. I grew up watching Lord of the Rings so that also had a major impact on my love for fantasy as a whole.
Can you tell us about A Queen is Knighted in less than three sentences?

A Queen is Knighted invites readers into a medieval world on the edge of fantasy invasion. Queen Lauraine and her companions are faced with difficult choices that unhinge their reality as they give their all to save their kingdoms.
Do you prefer plotting or "winging it" when writing a novel?

Rayleigh: I definitely lean more towards plotting, personally, but I'm always willing to change the plot when I have a great idea. When we write together, it's usually pretty balanced, depending on the story. With A Queen is Knighted, the book was more plotted than "winged", involving many brainstorming sessions well into the night. However, in the story we wrote over texting, there was nothing plotted about it and each scene was a complete surprise to the other person!

Joshua: I mostly wing it! Whatever comes to my head, I usually write it down and then think, "hmm, what if I do this, this or this?". Usually winging it is better for me because Rayleigh is the one with a plan, so I can just throw my ideas out there and we can toss it back and forth, but I would definitely be just fine without a plan!
What lesson has writing this book taught you?

Rayleigh: A Queen is Knighted began as my story in 2012. It wasn't until 2019 (after Joshua and I were married) that I had the genius idea to ask him to help me finish it since I couldn't seem to end the story. In rewriting the book–for the fifth time– this time with Joshua's help, I have to say that the biggest lesson I walked away with was that writing is more personal than I wanted to admit. There was a lot of self-doubt, fear, and insecurities that I had to work through on a personal level–with my husband's help–before A Queen is Knighted could be finished. I'll never forget the mental breakthrough moment for me, at 3 o'clock in the morning, when Joshua and I were talking about the ending and everything finally clicked. But it took me overcoming a lot of personal battles and fears, that I honestly never realized that I struggled with, before I could finally see the story as a whole.

Joshua: I would say, "to be patient". Honestly, you can't rush this kind of thing. You need to make sure that everything is correct, winds together, and makes sense. The story making sense is the biggest thing, to make sure there's no holes and that you don't come across things that just don't add up. So I'd say that's the biggest lesson for me, to be patient.
What can readers expect from you next?

Book 2 in The Tunockian Chronicles! We've already started outlining the second book and hope to start writing it later this year! We are expecting our first child in July, so we aren't sure what that time frame will look like yet, but we have lots planned for the Tunockian Chronicles and the whole gang!
Do you have any advice for beginning authors?

Rayleigh: Write your story! Get it all on paper and don't worry about how sloppy or messy it looks (don't even re-read it if that discourages you)! For years I was stuck in a cycle of writing a lot, then reading it, deciding I hated it, and then wouldn't touch it again for months. Just put your head down, focus, and get those words written. Editing is a step (it's actually, like, 5 steps) in the book publishing process for a reason, and you can't edit what doesn't exist so just write!
Joshua: Don't give up. Don't give up on something you've been trying to do. Rayleigh almost gave up on A Queen is Knighted and I'm very glad I talked her out of it and we were able to finish it. But even if you're struggling, even if you've hit a rough patch, even if you're just trying to piece everything together. Don't. Give. Up. That's the worst thing you could do to yourself is give up on something that you love. So whatever you do, whatever you're trying to write, just keep trying, just keep figuring it out, and don't give up.
~~~
I adored this interview, y'all! Rayleigh and Joshua have amazing insight and I hope it encourages you each! Big thanks to this power couple for being featured on my blog today, you guys rock.
Be sure to follow them online and join the blog tour for a chance to win the giveaway!
Blessings,
Angela