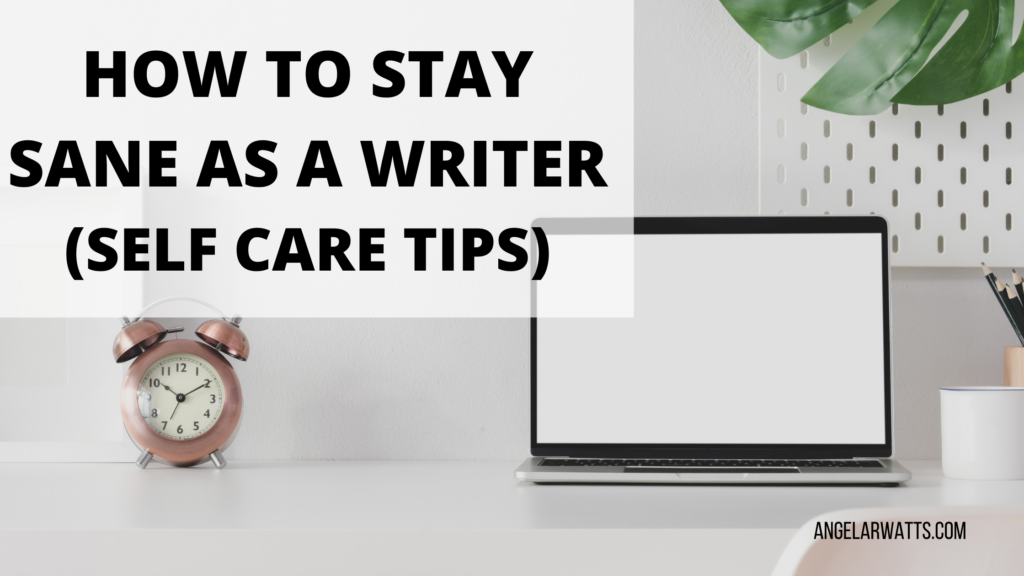 Is there a balance between being disciplined and accomplishing our goals AND taking proper care of ourselves so we don't go crazy? If you said no, ha! Funny, but wrong. In this post, I'll give some super basic tips on how to take care of YOURSELF… and still get your goals done!
Of course, nobody ticks the same so try these things but if something else works for you, go for it. The point of balance is working AND resting, so find your balance and take care of yourself!

EAT FOOD
Real food. Try healthy snacks, like broccoli, almonds, etc. Your body feels better when it has good food in it! If you're suffering from fatigue, it might be burn out from a lot of work, but it might be lack of proper nutrition!
Also, some writes (like me!) forget to eat during the day… oops!
DRINK WATER
You've heard it a billion times but you're still not doing it, are you? My tip for drinking enough water is to get a cup with a straw–yep, hit up Taco Bell one last time and save the large cup! This helps me drink WHILE I work and not forget! A dehydrated worker is a lousy worker, so drink up.
TAKE A WALK
Your body also needs exercise! If you're working 24/7 at a desk, chances are, your body really wants to move. If you can't hit up the gym or go hiking, find other ways to move. Take 10-15 minutes a day and work out, take a walk with your dog, anything to get some blood pumping.
Walking outside ALSO allows you to enjoy nature and get your mind off work. Or, if you think about work anyway, you're doing so in a new setting, which might get the ideas flowing!
WORK ON SOMETHING ELSE
If you're super overwhelmed and can't think straight… Set a fifteen minute timer and work on another FUN project. This might not be for everyone (I don't do this, haha) but I hear it works!
BIBLE TIME
If you "don't have time" to read your Bible… make time. I get it, maybe you're too sad to read the Bible–pick a more uplifting book in the Bible. If you're so broken that you can only read a few verses a day, just read a few verses. Turn on worship music and just sit with the Lord. The utmost form of "self care" is actually forgetting ourselves and focusing on JESUS.
If you enjoy Bible devotionals or prayer journals, check out Love, Honey West, they have super cool prayer journals, devos, and MORE!
STEP AWAY FROM THE SCREEN AND WORK
Our eyes can get strained and that makes our brains tired. So, step away from the screen and work with a notebook for a bit. Tired of writing in your novel but need to brainstorm something else out? Take a break and work on brainstorming via notebook and pen to give your mind a rest! It helps a lot.
SET DAILY GOALS AND WEEKLY GOALS
If the balance of taking care of yourself AND reaching your goals is hard in the long run… make it into short sprints! Set daily goals for BOTH work and rest. Have an ultimate goal for the week (or month) and set daily (or weekly) goals to hit that bigger goal! This way, you have small steps instead of giant, overwhelming ones. Example;
Read my Bible for 10 minutes today
Write 3,000 words today in my novel
Play with the dog for 10 minutes
And a weekly goal list might look like;
Write 10k in novel
Finish a book in the Bible
etc
When you have rest and work on a to do list, it helps you focus on making time for each thing. And it is nice to check it all off on a list, right?
This is also important if you aren't used to a schedule or struggle with getting everything done. Work takes a lot of time and if you don't have a routine, this is a good idea to start with! You can also schedule in your rest at first so you get the hang of the balance!
ACCOUNTABILITY PARTNER
Accountability parners are very popular, basically, you have a friend or three, and you all hold each other accountable for your goals. Having accountability and people knowing your goals helps you push yourself and reach them on time!
Honestly, this has never been my gig, so I can't vouch for it. I work much better alone. I've even quit sprints and word wars because I get more done when I write alone. So while I don't need accountability partners, you can try it out and see if it motivates you!
PRIORITIZE
Whether you're an author, artist, musician, a parent, or work a 9-5… We all have to prioritize things in life. If you're self-employed, you wear many hats, but some hats can be worn for shorter bouts of time. What do I mean? I read Write To Market by Chris Fox last month and the author pointed out how often authors waste too much time on things that matter, such as social media presence, etc, but it stops mattering when we waste too much time!
This means you can cut back on certain areas, or eliminate them if need be, and still be good to go! Take a step back and ensure that the work you're doing must be done. Can you cut back on social media time as an author? Probably. Small prioritizing decisions like this safe you a lot of time, so make the jump. The less time I throw at random social media marketing, the more time I have for things that really matter, like writing my novels and editing for my clients.
TRY A SKIN CARE ROUTINE
I am obsessed with my facial soaps and clay masks from Love, Honey West. They're refreshing and do wonders for my skin. The best part? When I put a mask on, I give myself some time just to relax for at least 10 minutes… and it's great! If you want to purchase super affordable beauty products (or a candle, or a shirt, or a beanie, or STICKERS), you can shop Love, Honey West HERE and use my discount code ANGELARWATTSAUTHOR at check out.
LIGHT A CANDLE
Light a candle and pick up a book! If you're knee-deep in writing your own novel, it's okay to take a break and read. Personally, I don't read much, if at all, while I'm writing, but after I finish a work in progress… give me allll the books!
You can snag a candle from Love, Honey West (rep code: ANGELARWATTSAUTHOR) or one from Worlds of Whimsy (rep code: ANGELA10)
REWARD YOURSELF
I'm pretty bad at rewarding myself when I finish a project. I usually plunge into the next challenge or goal… but I've tried to allow myself breaks in between certain projects! It has helped me find rest and I'm finding inspiration as I let myself watch TV, read books, etc. So take time to reward yourself when you hit a milestone! Binge a TV show, go out for lunch, whatever you do, have fun because you rock! It's okay to reward yourself for a job well done.

~~~
That's all for now! Drop your tips below and let me know if you want more posts like this!
God bless,
Angela