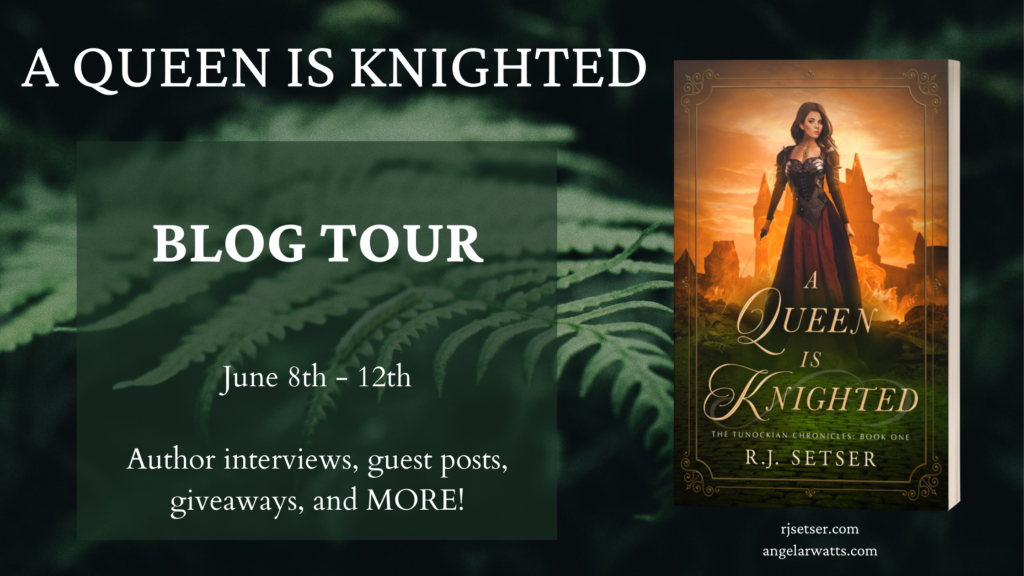 Hello, readers! I'm hosting the blog tour for A QUEEN IS KNIGHTED by R.J. Setser and we're kicking the tour off right here! If you enjoy fantasy fiction, don't miss this tour for epic interviews, guest posts, and a giveaway! I'm so excited for this!
A QUEEN IS KNIGHTED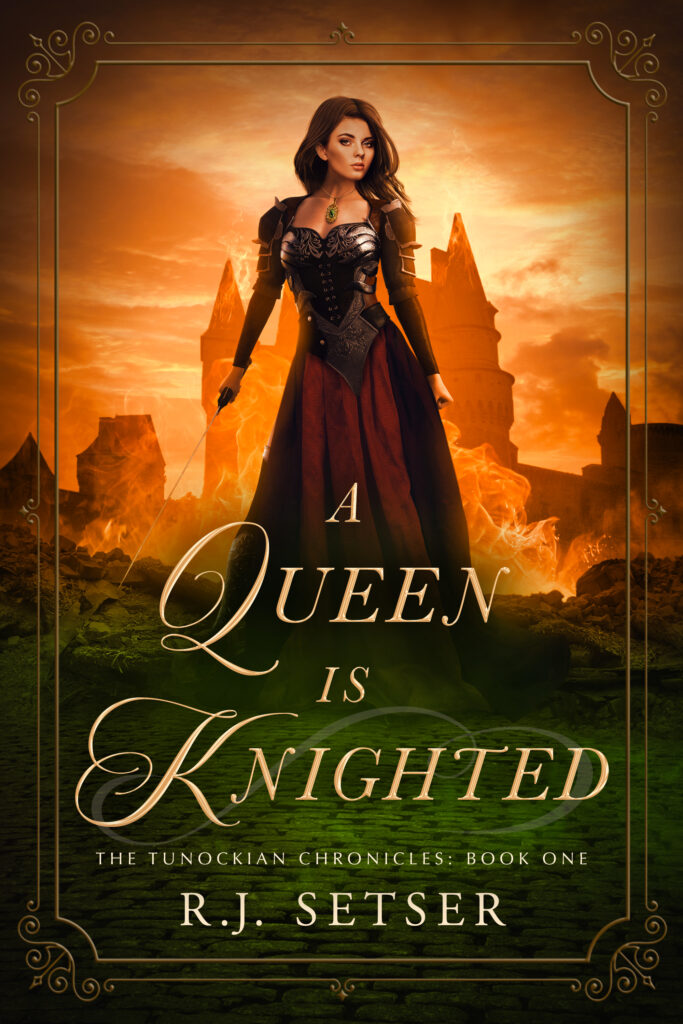 Three Kingdoms. Two wars. And one queen who is desperate to save them all.
The kingdoms of Tunock, Taus, and Wilmington have been at peace for more than five hundred years. On their secluded peninsula, life is perfect for royalty and commoners alike. Fear of the pirates in the waters keep them from exploring further than the beaches, and tales of strange visions and missing persons keep them from going to the mountains Beyond. They are happy with their way of living and content in knowing that as long as they don't cross the borders; they are safe. But everything changes when the castle of Tunock burns to the ground and the royal family disappears with no one to blame.
Princess Lauraine of Tunock never dreamed that she would spend her seventeenth birthday escaping a burning castle, but that's precisely how she spent it. Left to the mercy of a knight whom she's never met before, Princess Lauraine goes into hiding while trying to solve the political mystery of who attacked her home—and why. She befriends an old knight—whom her father declared insane—and though she trusts her father's declaration as much as she trusts him, something about the old man seems sincere. Could her father have been wrong about him? And when strange things happen throughout the kingdoms—things that should only belong in the fairy tale books—Lauraine finds herself at an impasse: should she rise to the position of Queen and restore order to her kingdom; or risk losing her kingdom entirely in search of the truth?
As the events happening in the Three Kingdoms continue to unwind, Princess Lauraine makes a choice. A choice that promises little reward and far more humiliation if she's wrong. With a small band of friends who she deems trustworthy, Lauraine gives her everything to become the person who will save her kingdom—even if it means losing herself.

OUT NOW – 6/8/21
ABOUT R.J. SETSER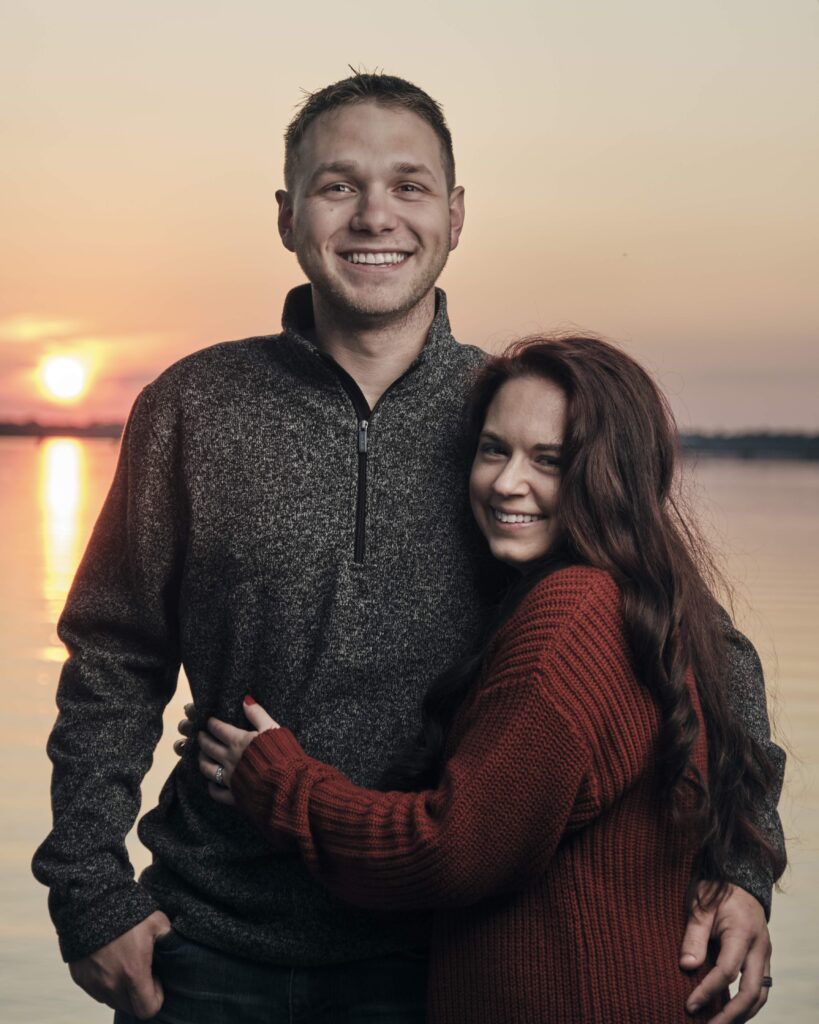 R.J. Setser is a pseudonym for wife and husband duo, Rayleigh and Joshua Setser. High-school sweethearts who found their happily-ever-after in 2019, Rayleigh and Joshua have been writing together since 2015 and finished their debut novel, A Queen is Knighted in 2020. They live in a small town in Texas with their 2 dogs, Watson and Rosie, and 1 cat, Yuna. They spend most of their time juggling Joshua's military life and Rayleigh's civilian life. In their free time, they can be found with both of their families at the lake, reading or writing, and quite possibly playing sword-fighting video games "for research". Find them on Instagram @r_j_setser or online at rjsetser.com.
TOUR SCHEDULE
JUNE 8 (RELEASE)
Angela Watts | Introduction Post
M.H. Elrich | Book Spotlight
JUNE 9
Dawn Dagger | Guest Post
Michaela Bush | Book Review
Erin Phillips | Author Interview

JUNE 10
Erudessa Gentian | Guest Post
Laura A. Grace | Guest Post
Angela R. Watts | Author Interview
JUNE 11
Joshua Reid | Book Spotlight
Stephanie Sevilla | Book Review

JUNE 12
Maryam Zeba | Book Spotlight
Angela Watts | Wrap Up Post
GIVEAWAY
The giveaway begins June 8th and ends June 15th! Winner will receive an autographed copy of A QUEEN IS KNIGHTED.
~~~
I am so pumped for this release, folks! Don't miss out and be sure to follow the tour and R.J. Setser on social media!
Blessings,
Angela