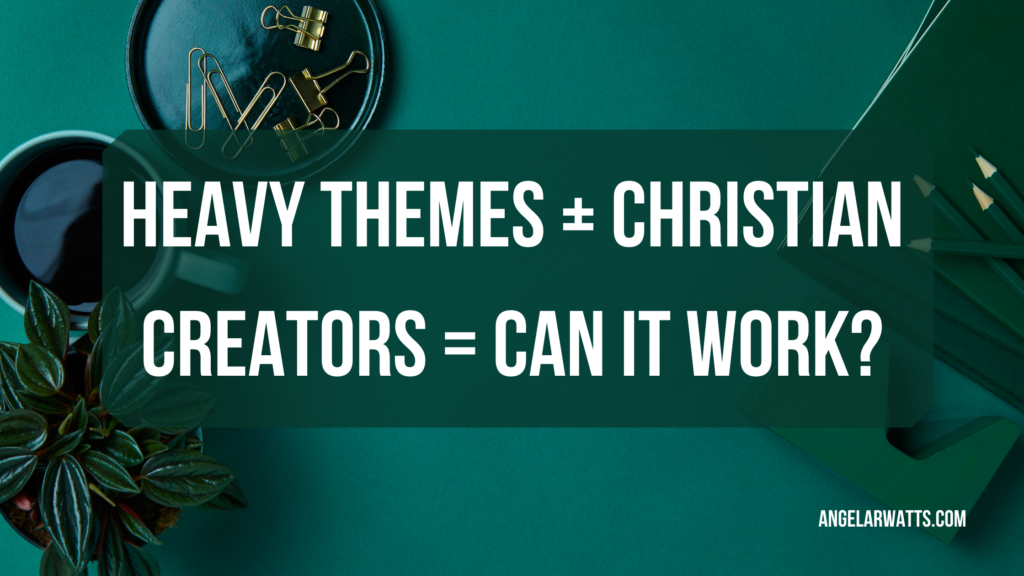 I'm an avid consumer of fiction in various medias. I enjoy secular and Christian fiction, movies, and shows. However, it's been a couple of years since I enjoyed a Christian fiction novel from the bookstore. These novels are fine and people who read them have the right to enjoy them without judgment. But I stopped enjoying them, and haven't tried to enjoy them. I also stopped marketing my own novels as strictly Christian fiction. Golgotha is faith-based but not marketed to CF readers only. Why?
"A raison d'être gives a person power. Friendship is a more reliable tool than a knife." – Angela Lagusa, 91 Days
Recently, I binged a few mafia shows. One stuck out to me. 91 Days is a short TV series that follows Angela Lagusa in revenge against the Vanetti family over the death of his family when he was a child. Angelo escaped the slaughter and returns years later for his vengeance by earning the trust of Nero Vanetti, the eldest Vanetti son.
"Faithful are the wounds of a friend; but the kisses of an enemy are deceitful." – Proverbs 25:6
Stories like 91 Days speak more of the truths the Bible tells than any two-paged sermon in a Christian fiction novel ever could. And that's what I wanted to do with Golgotha, which, like 91 Days, deals with the topic of revenge.
"Dearly beloved, avenge not yourselves, but [rather] give place unto wrath: for it is written, Vengeance [is] mine; I will repay, saith the Lord." – Romans 12:19
Stories are living things. Each story might speak something different to one person from another. That's what makes a good story, after all. A story should speak to the listener/watcher/reader. But I've noticed something in fiction, not limited to books marketed as Christian fiction. The absence of endings that leave you gaping. The absence of wicked or misled deeds that leave us, deep down inside, whispering, "No. That's not right." Instead, in my experience which may differ from another's, Christian creators are scolded into writing "clean" stories, stories without grit, without disturbing topics or situations or characters. Christian fiction novels are rated highly if they are simply clean, even if there is little faith content, and any novel with faith content that has some grit or tough topics is rated low due to the content.
It is stories like 91 Days that speak to people of both Christian and secular perspectives. Why? Because deep down inside, every watcher saw the final episode and realized the truth about revenge. It wasn't worth it. It was cold. It was empty.
"I thought that by completing my revenge and making my family's killers pay, I would find a reason to live again. But there was nothing left. It was all for nothing." – Angelo, 91 Days
The disturbing ending did as it should have–left us feeling changed. The show didn't have a sermon. The show didn't have a Christian character reminding them that Jesus was the answer every twenty pages. The show didn't have Angelo change his mind that he'd done the right thing. If the show had been Christian, I've no doubt it would have ended differently, possibly with Angelo realizing his mistakes and seeking salvation of sorts. However, the ending, I believe, fit. There's nothing wrong with the things mentioned, but some stories need different endings to truly serve the story justice, to drive the theme home.
Sometimes, endings suck. Sometimes, endings are disturbing. Sometimes, even as Christians, even in a world that God loves, the endings are terrible things that haunt us and leave us wishing differently. Not every story needs a happy ending. Not every story needs a vast change of heart. Not every story needs to wax poetically about God to leave the consumer realizing that something is unjust.
As Christians, it is wise to listen to God as we create our stories–and if God is telling you how a story goes or ends, and it might not be accepted or redeemable by Christian audiences… listen to God. I respect both sides: Christian novels, secular, etc. But my soul hungers for stories that leave me gaping, not stories that wrap a "Jesus fixes everything" bow on a half-hearted, shallow book. Do those books help people? I'm not saying they don't. But I am saying that sometimes, dark, dreary stories can pack more of a Biblical-themed punch than people think.
In Golgotha, I hope this is the sort of ending that readers meet. The novel tackles plenty of moral questions and hard situations. I wanted the reader to see how things were, and not simply be told how they were. There's something to be said for a story that leaves you gaping because you feel it deep within… that's what I hope Golgotha does.
And, of course, if you want to see how the topic of revenge ends for the Golgotha ragtag team… you'll have to read and find out.
GOLGOTHA BLOG TOUR DAY 2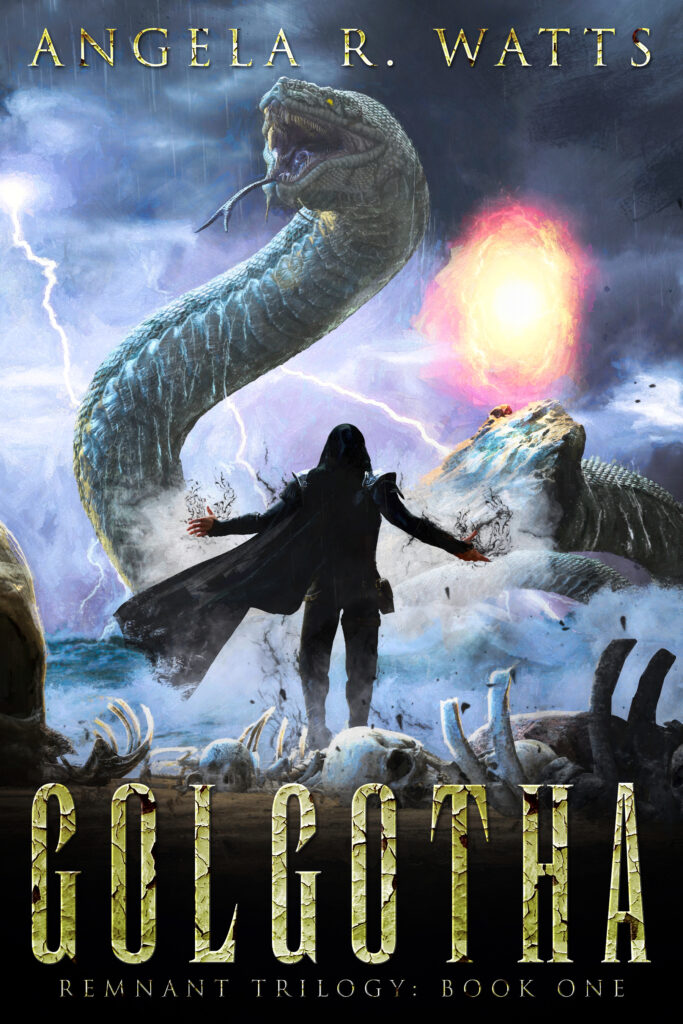 Four unlikely companions must band together to escape the Realm of Bones and save their kingdom from a reign of darkness.
Prince Moray will lead his empire to glory, even if it means dabbling with forbidden black magic. But when their parents are murdered, Moray and his brother, Finnigan, are cast into Golgotha—a realm where hope is dead. Finnigan fiercely believes his god, Elohai, will rescue them, but Moray will never trust again.
Princess Ama, promised in marriage to Moray to ensure her clan's safety from rival tribes, arrives just before a coup and becomes trapped in Golgotha with the smart-mouthed mercenary, Gunnar. Surrounded by strange monsters and ravenous demons, Ama must fight to hold on to her faith—or lose everything.
Despite Ama's Gift of prophetic dreams, Finnigan's Gift of energy, Moray's magic, and Gunnar's blades, nothing can rescue them from themselves. If they fail to escape, darkness will devour the entire kingdom.
Shadow and Bone meets Mark of the Raven in this epic for fans of faith-based young adult fantasy.
BLOG TOUR SCHEDULE
April 8th
Nathan Renfroe | Spotlight
Joshua Reid | Review
Merie Shen | Review
April 9th
Laura A. Grace | Author Interview
Emily Seaver | Guest Post
April 10th – Release Day
Stephen Howard | Author Interview
Jaye L. Knight | Spotlight
Michaela Bush | Author Interview
April 11th
Ian Wilson | Author Interview
Nicole Dust | Spotlight
Madisyn Zeller | Spotlight
April 12th
Hannah Gaudette | Guest Post
Lacie Ryder | Spotlight
Yakira Goldsberry | Spotlight
GIVEAWAY
One winner will receive a signed paperback copy of GOLGOTHA, along with a bookmark, character art, and a GOLGOTHA map.
FACEBOOK PARTY
6 PM – 10 PM Central TOMORROW, I am hosting a release party for GOLGOTHA on Facebook! Click "going" now HERE! I'll be hosting games, giveaways, exclusive posts, and I'll be LIVE with my publisher, too!
Let me know YOUR thoughts about heavy themes + Christian creators below!
Blessings,
Angela